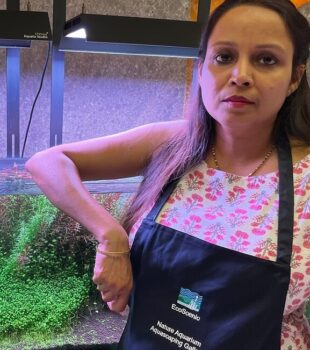 A teacher by profession and a lover of Nature from the days of her childhood. Nurturing life is deeply ingrained in this lady.
Her love for Nature comes from some very vivid memories that are very close to her heart from her childhood and when she used to visit her home in her native village.
Whether it was the ants making their homes or ant hills around the trees and carrying loads that were 20 times more than their own weight or the birds during the Indian monsoons shielding their offspring from the heavy rains in the trees and their nests with their wings spread out.
Simply put and in her own words- "Nature is just amazing in each and every one of its forms."
The love for Aquascaping also had its seed laid in her memory from her childhood days, wherein she would visit the zoo in her city which had a Nature Aquarium. It is from there, that she always wanted to try her hand at Aquascaping.
To help her with this and her journey in the wonderful world of Nature Aquariums and Aquascaping, is her husband and he has been instrumental as he too is a Nature Lover, a Nature Aquarium enthusiast and an Aquascaper. It's been 11 years and counting now, being associated and part of the Wonderful World of Nature Aquariums & Aquascaping.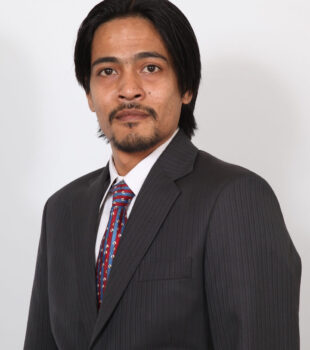 Co-Founder & Operations Head
A Nature lover down to the marrow of his bones and from longer than he can remember. Always has been drawn to the wonders of Nature, whether it be trees, plants, leaves & flowers- flora in all its forms to even the Shizuku's (droplets) of water on the flora or all of the Fauna (the animal world) that share this planet with us.
With nearly 2 decades of experience in the BPO and ITES sector as a Trainer and Global Quality Assurance Lead, he chose 'The road not taken and a complete shift in his line of work to pursue his innermost feelings, i.e. his love for Nature and all things Natural.
With the utmost respect for the Natural World, he finds peace and happiness most when in the lap of or surrounded by Mother Nature in any of her forms, be it flora or fauna.
He believes that it is the simple things that the world and life have to offer, that can bring true happiness in one's life in this world. For this, Nature happens to be his ultimate source of inspiration, learning, teaching, and sharing. To him, sharing of knowledge and educating the masses, the priority being the children of today who shall be the future of our existence on this beautiful planet that we and all other creatures call home. It is imperative that they understand the importance and role of Mother Nature and her ability to birth life on this planet.
The world of Nature Aquariums and Aquascaping has encapsulated his life to the point where all he can think about is just that! The joy and challenge of creating Ecosystems within a glass box or beautiful scenes with stories and perspectives take up a lot of the hard drive in his head. He is a strong believer that the Nature Aquarium is not only a great teacher but has the uniqueness of bringing together Art and Life in the same space- this being his greatest inspiration & motivation to be a part of the Wonderful World of Nature Aquariums & Aquascaping.
In his words- "The goal is to educate, inspire and motivate the masses to learn & understand the importance of Mother Nature and The Natural World, for, without this, we as a species and all other living beings shall seize to exist."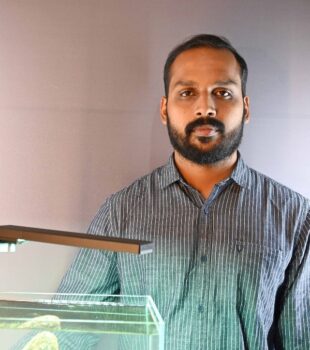 Gallery Nurture Administrator
Hailing from a beautiful village nestled among the mist-clad mountains of the Western Ghats, he carries his love for nature wherever he goes.  Studied Engineering and had a career in the software and services industry, he chose to stay close to nature by stepping in as a hobbyist to the world of Nature Aquariums. After experiencing the kind of joy, the hobby gave, he took a life-changing decision to turn passion to profession. 
He is someone who has always had fishes as his cherished pets from his childhood and he finds immense joy in creating and nurturing better habitats for the fishes to live in. The peace, tranquillity and magical alignment of all sorts of lifeforms in the wild is what made him truly interested in nature and its wonders. He believes that ecological balance is a miracle and every chance to protect, preserve or recreate it is nothing less than celebrating Mother Nature. Be it by exploring the wild, nature photography, gardening, fish keeping, or Aquascaping and maintaining aquascapes…for him, the door to happiness is always Nature.